Buy Iron Horse by PWD - Original Strength Iron Horse!
Iron Horse Cleaner: pure horsepower! Nostrils flaring and hoofs to the ground, Iron Horse is always raring to perform. It's guaranteed to perform on even the hardest applications!
Genuine Licensed PWD Iron Horse with PWD LOGO CAP. Contains the famous Power Pak Pellet to enhance purity and longevity. We only sell OFFICIALLY LICENSED genuine PWD factory fresh products.
URGENT CUSTOMER WARNING:
Iron Horse WITHOUT the PWD LOGO CAP is counterfeit PWD Iron Horse. DON'T BE DUPED! Please read packaging for directions of use and product details. NEVER FAKE IT!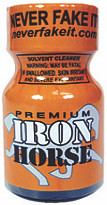 .40 oz / 10ml
The same
ORIGINAL IRON HORSE FORMULA
now in the easier to carry small bottle. Grab the large bottle for home use and a small bottle or two to take on the road!
100% Satisfaction Guaranteed!

- Only $9.95
---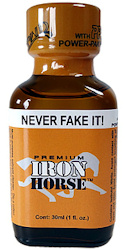 1 oz / 30ml
Introducing the NEW & IMPROVED large, square bottle, Iron Horse with larger opening and cap with new PWD seal. The best just got better, improved formula PWD "Iron Horse" has arrived!
4Solvents.com is your #1 source for Iron Horse by PWD!

- Only $16.95