Buy Ram by PWD - Original Strength Ram!
Discontinued!
After more than twenty-five years, this extra-strong formula is one of the best sellers ever! Millions of bottles of Ram® have been sold all around the world. And like all other PWD brands, Ram® is powerized with the exclusive Power-Pak Pellet™ to make sure it stays fresher longer -- when you need it most!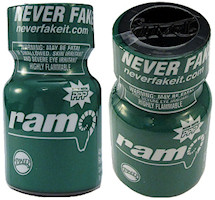 .40 oz / 10ml
Really "Ram" home the Savings at 4Solvents.com - Other sites sell these Ram cleaners for over twice as much as we do!
Get them here at the lowest prices online!
---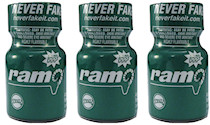 Value Pack of three 10ml Quicksilver Bottles
Our Ram Cleaners are so strong and so fresh we
guarantee
that you will wish you ordered more! Why not save yourself some time and money by ordering our three pack of Ram now!